Cheeky Penguin Websites has been in the business of designing websites and online businesses since 2007. In this time we have developed a core group of loyal and happy customers that appreciate our individual attention to their online needs, regardless of how small it is.
Our business model is to offer great looking websites at competitive rates and to provide continued online support.

George is the person you will most likely meet when dealing with Cheeky Penguin. The one thing you will notice about George is that he is big on marketing and promoting. Oh, one other thing, he loves to meet people at coffee shops all over the place because he loves to have his coffee. So don't be surprised if he suggests a meeting at a cafe!
Email: Send an Email to George or call George directly at 604-626-7576
Miranda A.

Miranda is a UBC graduate and a huge asset to the Cheeky Penguin family, not only is she a professional Ironman Triathlete, but she is also a computer geek at heart. She loves working on websites and finding ways to making them more efficient and appealing. So if you need a website and you want to make sure it gets done right the first time, Miranda is the person you want on your team.
Email Miranda directly here!
Cheeky "P"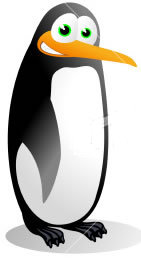 Hi my name is Cheeky "P" I am the boss of this great organization we call Cheeky Penguin Websites. Like the name suggests its about me and my group of fellow team members. My expertise is looking cute, being loveable, catching fish, making coffee, eating the fish and drinking the coffee.
If you want to know more about what I do come by often as I will be posting new and exciting things that are happening around here. We will be offering great deals for those just starting out, so make sure you check out our 'Hot Deals' and much more!!!!
Just because I am Penguin it doesn't mean we can't make great looking websites, because we do.
See you soon!
Cheeky "P"