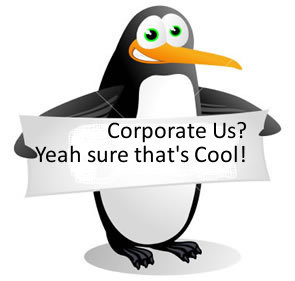 Cheeky Penguin Corporate - Naaaahhhh!
Cheeky Penguin Websites is corporate but not really! Legally we have our i's dotted t's crossed, but we definitely don't look corporate. Our goal is to provide top notch quality website and services and not have it cost anymore than an arm or leg. We don't carry a lot of extra expenses so we can provide the same services as those expensive web development companies without having too charge you as much. Yeahhhhhh!
We put this page up so we can have a little fun at our expense.
Here is a list of 'Cheeky P's Favourite things!
---
Favourite Hockey Team!
Who else but the Stanely Cup Champions 'Pittsburg Penguins'!
The staff of Cheeky Penguin are all Canuck fans, don't tell the boss!
---
Favourite Way to Relax!
Learning about all of the great ways to make websites better!
The staff says 'Cheeky P' is all about fashion and is constantly looking at the latest trends!
---
Favourite type of Food!
Sardines!
The staff of Cheeky Penguin hate Sardines!
---
Favourite thing to do on a day off!
'Cheeky P' likes to work all of the time, so their is no need for time off!
The staff of Cheeky Penguin believes that 'Cheeky P' needs to find that special someone!
---
Favourite dance!
There is only one dance and that is the Penguin Polka, waddle, waddle, dip!
The staff of Cheeky Penguin is trying to get 'Cheeky P' to add a couple more new steps, its not working!
---
Favourite Athlete(s)!
The whole Canadian Olympic team, good luck!
The staff of Cheeky Penguin would also like to extend the Canadian Olympic team the very best for 2010!
---
Thanks for you to take the time to read this, as you can tell we like to have fun but we also want to earn your business, so contact us with any web service you require. Thanks from the team at Cheeky Penguin!