Make Your Own Website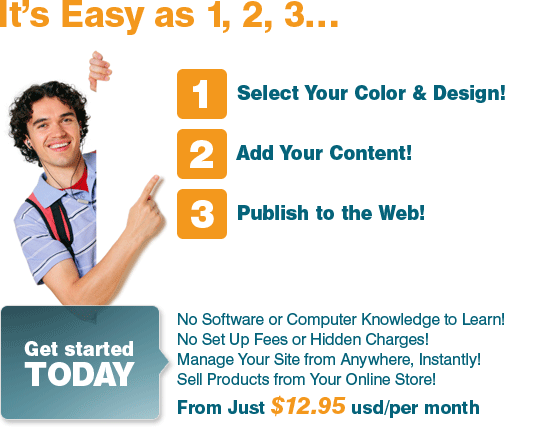 Services We Offer!
Access and manage your site anywhere
Online accessibility guarantees you the ability to manage your site anywhere and anytime, on the road or out of the country.
Streamlined interface makes editing your website quick and easy
Manage and update your site with new products, pictures, text, and sound at your convenience and on your time.
Design your site your way. We'll support you
Having technical problems? Our 24 hour online support team will fix the problem for you so you can concentrate on the more important things relating to your business.
Multiple language support available
We understand the needs of a global online community and have built this in mind. Currently supports the English, Spanish, Japanese, Chinese, French, German, and Russian language and even more languages will be supported in the future.

An elegant approach at web design at an affordable price!
Testimonials
"What a cool product! I am what you call a beginner to the web world and never dreamed I could design and build a website by myself. After using MakeYourOwnWebsite I feel like an expert. I always thought getting a website would be a huge investment, in both time and money. I had never been more wrong. MakeYourOwnWebsite allowed me to build my site quickly and for less then I ever imagined."
Renee, Owner
Hail Mary's
Cheeky Penguin's "MakeYourOwnWebsite is very easy and fun to use. The document and photo uploads are seamless, and then bandwidth is more than enough to handle our multiple Web graphic programs. Best of all, we were able to produce a professional-looking Web site the same day we bought the service... just like the name promises. We even secured our first client that same day - who commented positively on our Web presence."
Lance Houston, J.D.
Vice-President and COO
Houston Academics, Inc.
Plus Many More Great Services Available!