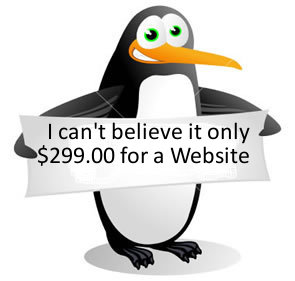 Yes, you too can have a Website for $299.00!
Cheeky Penguin Websites can develop a clean and appealing one or two page website from only $299.00. For many people starting out they don't have lots of money to invest into a website, well now they don't have to. Cheeky Penguin Websites can get you started with a website, hosting for one year and two email accounts for only $299.00.
To get started just fill out the form below and we will contact you within one business day!
Let's get started & within 7 days you will have your website up and running!

George likes to talk about websites all of the time, because he believes websites is the most affordable way to get the message out! If you feel the same way then you should contact George for a free one hour "get together" and talk about websites. At least this way we can get him out of our hair!
Thanks from the team at Cheeky Penguin Websites
* Free Coffee on us!