Ecommerce Websites!
Whether you're starting a new eCommerce website, or looking for an eCommerce re-design, Cheeky Penguin Website's goal is to provide the best professional e-Commerce web design solutions at an affordable price. With features such as unlimited products and categories, to a secure 1 page checkout, we make online transactions easy for both website owners and customers. From selling a product or subscription, to taking payments for a service, our team can develop the custom eCommerce website perfect for your business. There's no limit to what your eCommerce site can achieve providing your products or services online.
eCommerce Website Features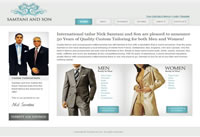 1 Page Interactive Checkout
Accept Credit Cards Online
Add Products Easily
Unlimited Products & Categories
Advanced SEO & Website Marketing
Professional Custom Design
Product Search
Shipping with UPS, FedEx & Canada Post
Newsletter Sign Up
There are many different ways to incorporate a shopping cart if you require one to sell products or services. Let a Cheeky Penguin Representative explain some of the options and answer your questions. Ecommerce sites can vary greatly in costs so take the time to make a list of the things that you need your website to do and get some quotes. A well planned website will save you money, time and hassle.
eCommerce Catalog & Products Features
* Unlimited number of categories, sub-categories, products and options.
* Optimized brand laning pages
* Item discounts based on quantity ordered.
* Order discounts and promotional codes with single or multi use discount codes.
* Products can be linked to multiple categories and have multiple options.
* Set the order in which products display.
* Options can be individually set to Optional or Required.
* Options can be given a weight which will be factored into the shipping cost calculations.
* Support for "text" options which allows a customer to enter text when they order a product.
* Ability to choose the "Featured Products" on your homepage.
* Tax-free products and options.
* Support for product Ratings & Reviews per product.
* Support for product suppliers
* Support for product manufacturers
* Support for product brands
* Maintain inventory levels by product and product options.
* Multiple product images
* Zoom product images (multiple zoom options)
Blog Capabilities
* Integration with social media website
* Fully integrated search engine optimized blog
* Ability to attach and cross sell products on blog posts
Search Engine Optimization Features
* Validated W3C XHTML / CSS code
* Complete search engine friendly development
* Ability to create unique title tags and meta information for categories and products
* Dynamically created title tags and meta information for categories and products (ability to overwrite manually)
Administration Features
* On-Screen help is available for most functions.
* Easily manage Products, Categories, Options, Customers, Shipping, Locations, Orders and much more.
* Upload Product Images and Software Items from your browser to your web server.
* Store shipping rates are calculated by order weight and/or price.
* Support for UPS, USPS and Canada Post online shipping rates.
* Configure sales tax per postal / zip code, municipality, state or country (billing or shipping address).
* Activate/Deactivate individual customers.
* Manage your orders from an intuitive screen. Order stock levels can be adjusted when the order ships.
* Add private comments to each order, or comments that the customer can also see.
* Statistical Charting tool.
* Restrict digital downloads to a specified number of downloads, or a pre-determined number of hours.
* Ability to override any customer selected payment method with a Authorize.Net Credit Card payment.
* Emails sent to customer via the store can be customized to suit your requirements.
* Send HTML Newsletters to your customers directly from your store.
* Create and maintain discount codes.
Customer Convenience
* Customer can view and modify their personal info by logging on to their account.
* Full order history and detail is available to the customer.
* All software downloads are available via their online account.
* See shipping estimates before checkout.
* Customer can keep a list of their favorite products.
* Selectable currency and language.
* Product selection by brand
Security & Encryption
* SSL support utilizing the highest standard in online security.
* Encryption of Passwords and Credit Card numbers in the database.
eCommerce Payment Gateways
* Built-in front end support for offline payments.
* Built-in support for PayPal IPN
* Enter up to 9 Credit Card types (ex: Visa, Mastercard, etc.).
Analytics and Statistics
* Complete integration with Google Analytics